We strive for excellence

to facilitate the PROGRESS of our cities and towns towards a brighter future.
HOW WE WORK
Alliance is a widely recognised and respected property company that offers a comprehensive range of services and boasts extensive expertise in industrial, commercial, hotel, and residential sectors. With a portfolio that has grown over the span of thirty years, our team of skilled professionals excels in identifying, managing, and operating both speculative and customised opportunities for occupiers and partners based on market demand.
The Alliance team possesses a wealth of experience in enhancing value through the development and management of our own portfolio as well as that of our joint venture partners. Additionally, we specialise in handling challenged assets belonging to third party lenders and investors. By providing a dedicated platform for managing various types of properties, Alliance proudly represents numerous UK and International funds.
We take pride in managing all properties in-house, which results in a consistently low vacancy rate. This not only showcases our exceptional property management skills but also highlights the quality of our portfolio and the strength of our relationships with occupiers.
Thanks to our robust operational and financial capabilities, Alliance guarantees swift responses and efficient turnarounds on development opportunities of any scale, assuring our partners of exceptional service.
OUR BOARD
Our Board is responsible for managing a comprehensive team of industry experts, comprised of experienced and knowledgeable professionals in agency, asset management, development, finance, sales & marketing, and partnerships.
With a long-standing history, our team brings considerable depth in property and financial expertise, and cultivates strong collaborative relationships with banks, funds, and local authorities.
OUR AWARDS
At the core of everything we do is design. We don't simply create places, we meticulously craft spaces that breathe life and character into communities. Our mission is to connect and collaborate, fostering a sense of energy and identity.
From renovations and innovative design projects to revitalising city centers, Alliance's buildings have received widespread recognition and praise for their significant impact on city skylines and the rejuvenation of communities.

×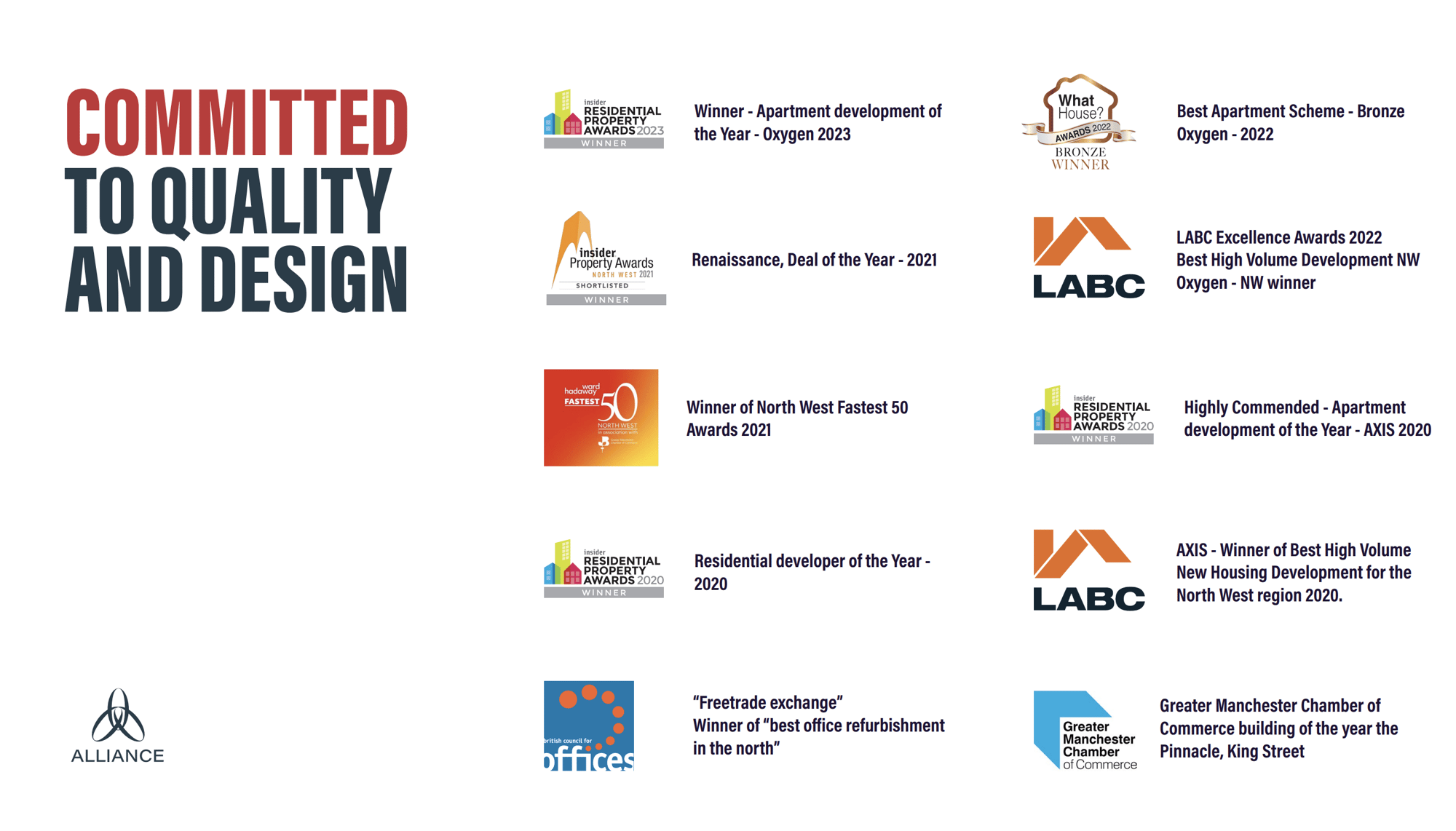 NEWS & VIEWS
Whether it's latest news on deals and lettings, market research and learnings or the completion of another landmark renovation or new build, stay up to date on what our team has been up to.